What is wirevise
Views: 4 Author: Site Editor Publish Time: 2021-05-05 Origin: Site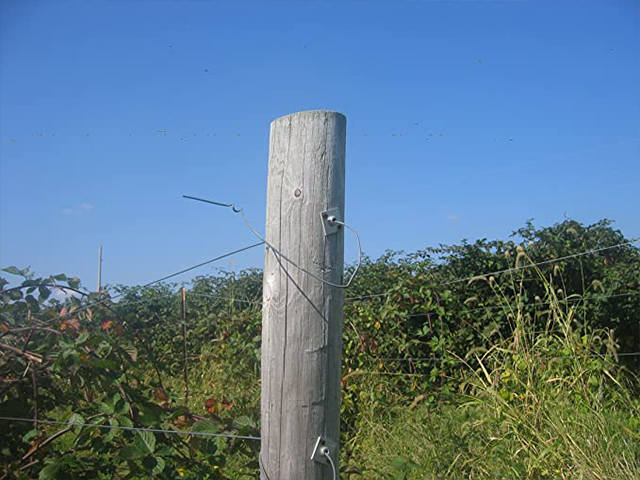 How To Use
Our Wire vises keep your wire tightened preventing it from slipping back and conveniently securing it to the post.Easy to use, just insert the wire into the long narrow end of the vise towards the plate end and pull from the other side. Once inserted the wire holds in place and can only be moved in one direction.Anchor vises will save you time and money when it comes to tightening wires. No need to replace wires or use joiners to tighten them. Once you install your anchor vises you will only need to pull the wires when you feel they need tightening. They will hold in place without slipping back.NOTE: The higher the gauge, the thinner or more narrow the wire. Various fruits and vegetables that can be grown with trellis systems using wirevises are tomatoes, beans, cucumbers, peppers, baby pumpkins, summer squash of all types, small melons, grapes, raspberries, blackberries, gooseberries, passion fruit, kiwi, and even hops. The most recommended and most popular gauge wire for creating vineyard trellis systems is 12.5 gauge high tensile wire.our 8 to 11 gauge wire vise can be applied to build trellises, vineyards, fences or trees, providing you with an optimized experience for your garden work
The anchor vise may be used in orchards, vineyards, arbors as well as farm fencing. It is suitable for any structure that requires high-tension wire.
Wire Vise
The WIRE VISE can fasten H-T wires without a tool. Merely insert the wires into the holes. The wires are gripped by spring-loaded clamps which tighten more securely as the wires are pulled harder, holding the wires at over 80% of the breaking strength of the wire itself.
To use the WIRE VISE, drill a 3/8 inch hole through the end post and pull the wire through the hole. Then put the WIRE VISE on the wire and tap it lightly into the hole. If final tensioning is to be done with the WIRE VISE, it is recommended to pull the wire to the end post with a chain grab, then push the slack through the hole and WIRE VISE. A special tightening tool (TVT) is also available for use with the WIRE VISE. It grabs the wire which has been threaded into the WIRE VISE and a simple prying action pulls the wire through the FASTVISE to the desired tension.
Size
Our Wirvise materials have Aluminum or Aluminum Alloy
Each vise is lightweight, easy to use, manage and transport at only 1 ounce. They are compact measuring 2.4 x 1.2 inches.
Wirevise
| | | | | |
| --- | --- | --- | --- | --- |
| CATALOG NUMBER | OVERALL LENGTH | OVERALL WIDTH | WIRE RANGE, IN. | WIRE RANGE, MM |
| 5056 | 5.5 | 1.55 | .062 - .100, 13-16 USSWG | 1.40-2.60 13-16 BWG |
| 5058 | 5.5 | 1.47 | .091 - .114, 12-13 USSWG | 2.30-2.90 12-13 BWG |
| 5062 | 7.7 | 2.46 | .120 - .135, 10-11 USSWG | 3.10-3.50 11-12 BWG |