Introduction of one-way vise
Views: 121 Author: Site Editor Publish Time: 2022-04-04 Origin: Site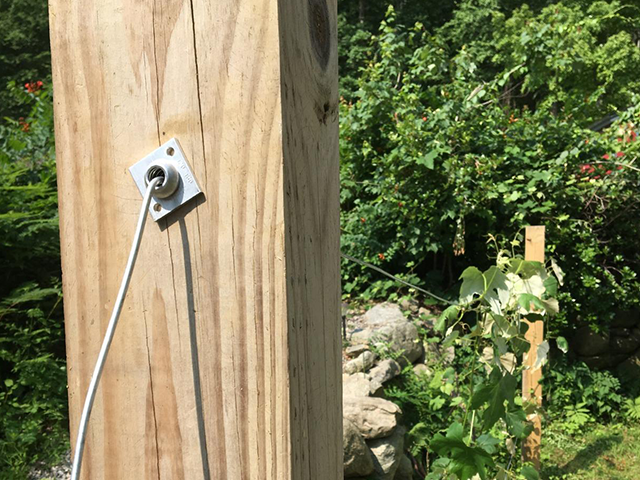 Introduction of one-way vise

One-way vise is a great tool for building a professional looking trellis, vineyard, fence, or arbor · Easy use and installation opens up a world of possible applications
Since this is a one way anchor, you just have to pull on one end to remove any slack in the wire. It stays tight the whole year and at the end of the year I just pull on one end to tighter it again.Works great for a clean and neat grape trellis, but could also be used for a raspberry or blackberry trellis.
You can used 9 gauge wire by drilling a 5/32 inch pilot hole all the way through the post for the wire. Then drilled a 5/8 in hole with a spade bit from the back side but stopped approx. half way through. This allows for the wire vise to snug into the hole. Now here is the critical part. Use pliers to straighten out the wire and feed it from the front side of the hole all the way through the back side and allow 12 inches or so to protrude. Then slip the wire vise on to the wire so that the pointy end nests into the post. did not need to add screws. Then go to the opposite end of the trellis and repeat the process and then gradually tighten up the entire wire by going back and forth to opposite ends of the trellis. used vise grips resting on a pry bar to tighten the wire. This assures equal tension from both ends My total length was only 30 feet, but for longer runs, such as 100 ~ 200 feet, a tension device might possibly be needed to release tension during the winter. Remember: these wire vises work only one way. They tighten but do not release the tension.
Lastly, you should leave approx 12 inches or more of excess wire. Instead of cutting it flush to the post, allow 6 inches or so to form a loop and drill a small hole off to the side and stick the end of the wire into the hole. This will prevent snagging and provides enough wire to grip for future tightening. See attached photo.